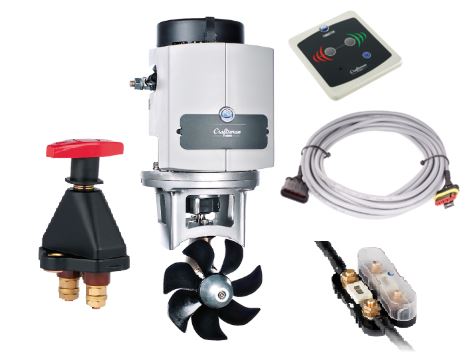 55Kgf 12V Bow Thruster Kit
Description
55Kgf Bow Thruster Kit.  Ideal for Narrowboats up to 57ft
Specification
12V - 24V available, please call for more information.
55Kgf Thrust Force
Tunnel Diameter 150mm
Thrusters for pleasure craft have to be small, easy to install, long lasting, reliable, efficient and easy to handle from the helm.  Craftsman Marine thrusters meet all these requirements.
Our thruster propellers are designed to achieve maximum thrust in a relatively small tunnel diameter.  Made of synthestic material, these propellers are capable of running in both directions, producing thrust to port and starboard.
Depending on your hull structure, length and your vessels water displacement we can select the right thruster for your vessel.
Our Bow Thruster Kits include the following: Bow thruster unit, brushed aluminium control panel, 20mtr operating cable, Battery isolation switch, fuse and fuse holder.
Remember, at Aqueduct Marina we dont only supply, we can also fit.  Call us to day to discuss how quick and simple it can be for us to fit your new thruster.